Interviews Ed Hanssen
Interviewing Amira Al-Sharif, POST-, Kerkrade, 30 november 2014
Interviewing Kazem Abdullah, Generalmusikdirektor Theater Aachen und Aachener Sinfonieorchester, 29 september 2013 with Monika Radhoff-Troll
I have been interviewed by the Turkish daily newspaper ULUKISLA HAVADIS GAZETESI, 27 may 2021.
Interviewer: Fatma Tan Muhabir.
Special thanks to: Safa Büte.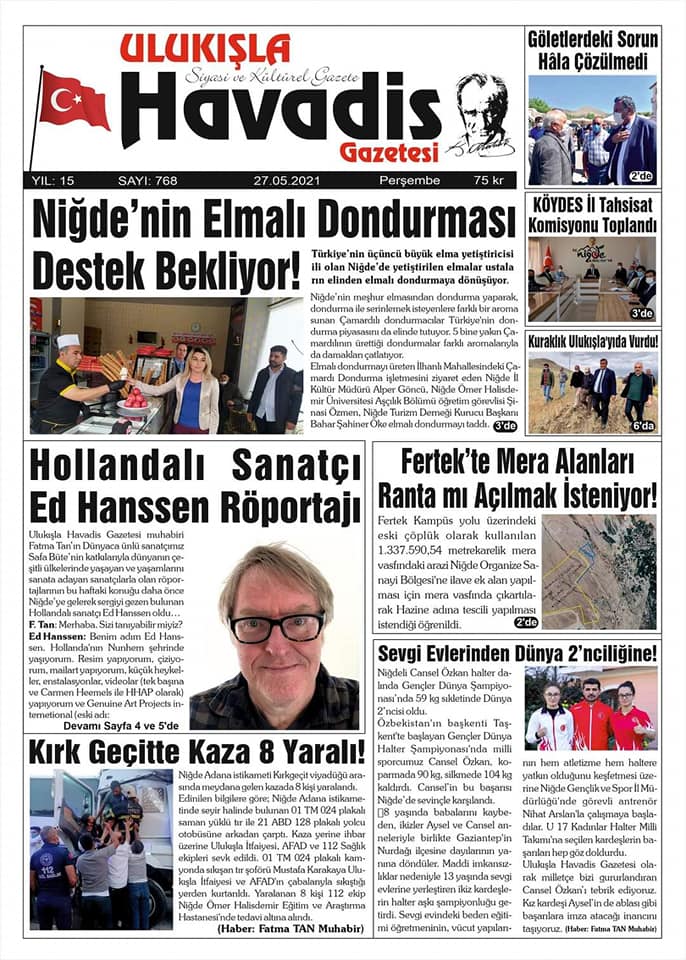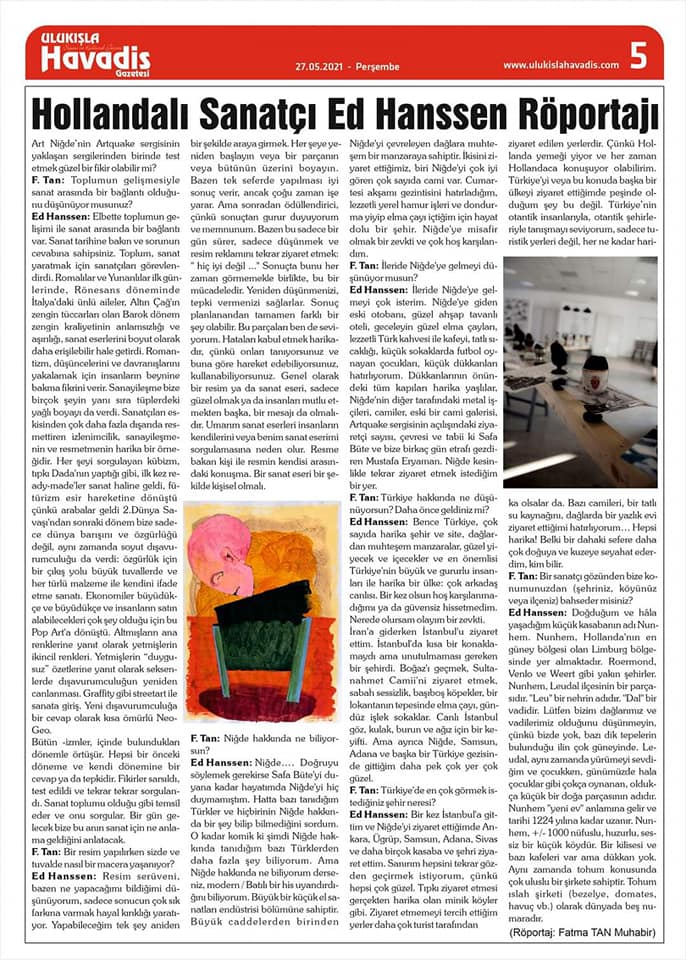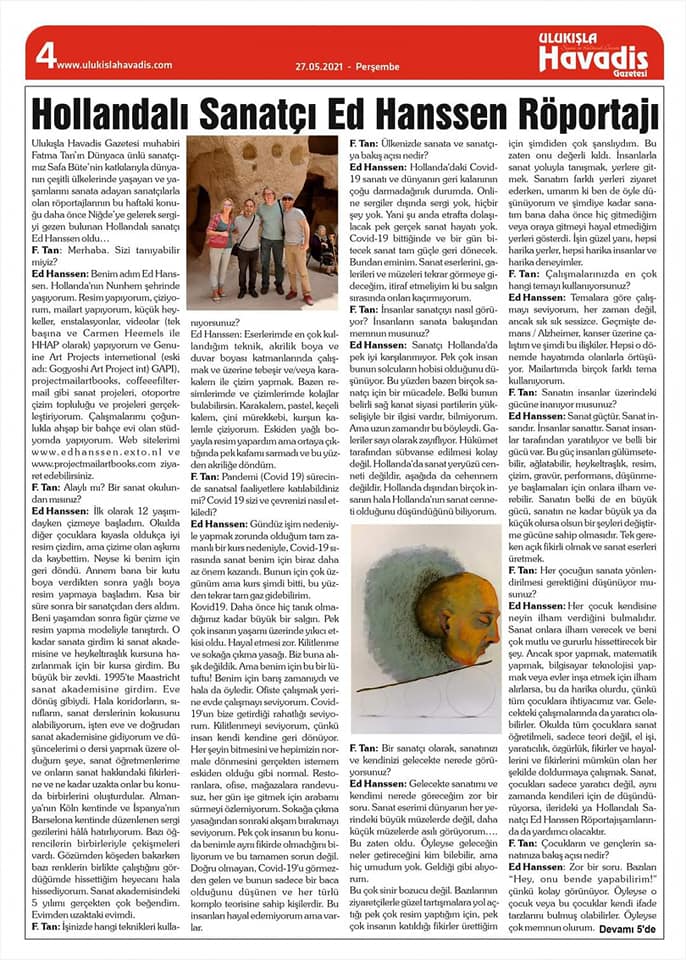 F. Tan: Hello. Can we get to know you a little bit?
Ed Hanssen:
My name is Ed Hanssen. I live in Nunhem, the Netherlands. I paint, draw, do mailart, make small sculptures, installations, videos (solo and as HHAP with Carmen Heemels) and initiate artprojects such as Genuine Art Projects internetional (formerly known as: Gogyoshi Art Project int) GAPI), projectmailartbooks, used coffeefiltermail art, selfportrait drawing community and many others. I create my artwork mostly in my studio, which a wooden gardenhouse. You can visit my websites
www.edhanssen.exto.nl
and
www.projectmailartbooks.com
.
F. Tan: Are you a self-educated artist? Or from an art school?
Ed Hanssen: First I started drawing when I was about 12 years old or so. At school I drew rather well, compared to the other kids, but than I lost my love for drawing. Luckily for me it returned. I started painting oilpaintings after my mother gave me a box of paint. Shortly after that I took up lessons from an artist. He introduced me to figuredrawing and painting after life model. I got so into art that I got into a course to get ready for the art academy as well as a sculptingclass. That was such a joy. In 1995 I entered the artacademy Maastricht. It felt like a homecoming. I can still smell the hallways and the classrooms, the artclasses, me driving from work to home and straight to the art academy and turn my thoughts into what I was about to do that lesson, my artteachers and their ideas about art and how far away form eachother they were on that subject. I still remember the arttrips to exhibitions in Köln, Germany and Barcelona, Spain. There was the rivalry some co-students had with each other. I still feel that thrill how I felt when I saw certain colours work together while looking from the corner from my eye. I really liked my 5 years at the art academy. It was my home away from home.
F. Tan: Which techniques do you use in your works.
Ed Hanssen: The technique I use most in my works is working in layers of acrylic paint and wallpaint and drawing over it with chalk and/or charcoal. Sometimes you can find collages in my paintings and drawings. I draw with charcoal, pastels, markers, indian ink, pencils. I used to paint with oilpaint, but as it turned out, my stomach didn't agree wih that, so I turned to acrylics.
F. Tan: Have you been able to participate in artistic activities during the pandemic (Covid 19) process? How did Covid 19 affect you and your environment?
Ed Hanssen: Due to a fulltime course I had to do because of my daytime job, art got a little less important for me during Covid-19. So sorry for that, but the course is done now, so I can go full steam ahead again.
Covid-19. A pandemic so big, we have never witnessed before. It has had devastating effect on so many peoples lives. It is hard to imagine. Lockdowns and curfew. We were not used to that. But…… to me…… it was a blessing! It was (and still is) a time of peace for me. I love working at home, instead of working at the office. I love the quitness Covid-19 brought us. I love the lockdown, because one gets thrown back to oneself. I really wouldn't like it when it is all over and we are all back to "normal" (normal as it used to be). I do not miss going to restaurants, to the office, to stores (without appointment), driving my car day in-day out to go to work. The quitness in the evening after curfew, I like it. I know not many people agree with me on this issue and that is perfectly allright. What is not allright is the people who ignore Covid-19 and think it is just a flue and who have all kinds of conspiracy theories. I just cannot imagine these people, but they exist.
F. Tan: What is the perspective of art and artist in your country?
Ed Hanssen: Due to Covid-19 art in the Netherlands, and much of the rest of the world, lies in shambles. No exhibitions, no nothing, except fort he online exhibitions. So there is not much real life art to go around right now. When Covid-19 ends (and it will end one day) art will return full force. I am sure about that. I will go see artvenue's and galleries and museums again, although I must admit, I do not miss them during this pandemic.
F. Tan: How do people view the artist? Are you satisfied with people's view of art?
Ed Hanssen: Artist are not all very well received in the Netherlands. A lot of people have the idea it is just a lefties hobby….. so that is a struggle sometimes for a lot of artists. Maybe this has something to do with the rise of certain rightwing political parties, I do not know. But it has been this way for a long time. Galleries are slimming down in numbers. It is not easy to be subsidiced by the governement. Art in the Netherlands is not heaven on earth, not hell below either. I know many people from outside the Netherlands still do think the Netherlands is paradise for art: it is not.
F. Tan: As an artist, where do you see your art and yourself in the future?
Ed Hanssen: Where do I see my art and myself in the future, is a tough question. I do not see my artwork hanging in the big museums all over the world, but in smaller museums…. That already happened. So who knows what the future might bring, but I don't have my hopes up. I take it as it comes. That is not so nerve wrecking. I have already been so lucky coming up with ideas many people joined in on, having painted so many paintings of which some lead to beautiful discussions with visitors. That already made it worthwhile. Meeting people trough art, going places. As my art visits places, so do I, I hope, and so far my art showed me places I had never been before or dreamed of going there. The nice thing is: they are all great places, all great people and all great experiences.
F. Tan: Which theme do you use most in your works?
Ed Hanssen: I like working by themes, not always, but quiet frequently. In the past I worked on dementia/Alzheimer, cancer and now it is relationships. They all coincide with what happens in my life in that period of time. In my mailart I use many different themes.
F. Tan: Do you believe in the power of art over people?
Ed Hanssen: Art is power. Art is people. People are art. Art is being created by people and it has a certain kind of power. That power can make people smile, it can make them cry, it can inspire them to take up sculpting, painting, drawing, etching, performing, think. Art's greatest power maybe is that art has the power to change things, no matter how big or small. All it takes is an open mind and an artwork.
F. Tan: Do you think every child should be directed to art?
Ed Hanssen: Every child should find out what inspires them. Art is one thing that might inspire them and that would make me feel very happy and proud. But if they are inspired to do sports, mathematics, computertechnology or building houses, that would be great too, for we need all children. They can be creative in their line of future work too. At school all children should be taught about art, not just theory, but most of all the handwork, the creativity, the freedom, the ideas and trying to fullfill their dreams and ideas in any way possible. If art can make children not just creative but also think for themselves, it will help them in their further life.
F. Tan: What is the perspective of children and young people to your art?
Ed Hanssen: A tough question. Some might say "Hey, I can do that too!" because it looks easy. Well, if so. That child or these children may have found his/her/their way of expression. If so. I would be very pleased. Maybe a nice idea to test in one of the upcoming exhibitions of Art Nigde's Artquacke?
F. Tan: Do you think there is a connection between the development of society and art?
Ed Hanssen: For sure there is a connection between the development of society and art. Look at arthistory and you have the answer to the question. Society appointed artists to create art. The Romans and Greeks in their heighdays, the famous families in Italy during the Renaissance, the frivolity and excess of the wealthy royalty of the Baroqueperiod, the rich merchants of the Golden Age made artwork more accessible in size. Romanticism gaves the idea of looking inside humans brain to capture their thoughts and behaviour. Industrialisation gave us among many other things, oilpaint in tubes. That made artists paint outside much more than before and impressionism is a great example of industrialisation and painting plein aire. Cubism that questioned everything, just like Dada did, and fort he first time readymades became art, futurism captioring movement because cars came around The period after World War 2 gave us not only worldpeace and freedom, but also abstract expressionism: an outlet for freedom in art to express themselves on huge canvasses and with all kinds of materials. This turned into Pop Art as economies grew and grew and people had so much things they could buy. The secundary colours from the seventies as an answer to the primary colours of the sixties. The revival of expressionism in the eighties as an answer to the "emotionless" abstracts of the seventies. The introduction to art by streetart like graffity. The shortlived Neo-Geo as an answer to the new-expressionism.
All the -isms coincide with their period in which they were. All are an answer or reaction to the period before and to the period of itself. Ideas were shaken, tested and questioned over and over again. Art represents society as it is and questions it. One day future will tell us what this moment in time meant for art.
F. Tan: What kind of an adventure takes place in you and on the canvas while a painting is being created?
Ed Hanssen: The adventure of painting….. Sometimes I think I know what to do, only realising the outcome very often is disapointing. The only thing I can do than is to abruptly intervein somehow. Start all over again, or paint over a part or the whole. Sometimes it works well having it done in one take, but most of the time it is work. But afterwards it is rewarding, for I am proud and satisfied about the outcome. Sometimes that only takes one day, just to think and revisit the painting ad saying: "it is not good at all…." So a struggle it is, although one will not always see that in the endresult. Accidents can be quit refreshing as well. They make you rethink, react. The outcome might be something completely different than planned. These pieces I enjoy too. It is great to accept mistakes, for you recognise them and you can act accordingly, use it. A painting or an artwork in general has to have a message, other than just be beautiful or make people happy. I always hope my artworks make people question themselves or my artwork. A conversation between the person looking at the painting and the painting itself. An artwork has to be personal, somehow.
F. Tan: What do you know about Nigde?
Ed Hanssen: Nigde…. To tell the truth untill I heard of Safa Büte, I had never heard of Nigde in my life. I even asked some Turkish people that I know and none of them knew anything about Nigde. So funny that I now know more about Nigde than some Turkish people I know. But what do I know about Nigde…. I know it has a modern/western feel about it. It has a great small handcraft industry section. It has a magnificent view from one of the bigger streets onto the mountains surrounding Nigde. It has many mosques of which we visited two, one of which having a great overview of Nigde. It is a city buzzing with life as I recall the Saturday evening stroll, eating the delicious local pastries and icecream and drinking appletea. It was a joy to have been a guest in Nigde and I felt very welcome.
F. Tan: Do you plan to come to Nigde in the future?
Ed Hanssen: I would love to come to Nigde in the future. I remember the old highway to Nigde, the hotel with the beautiful wooden ceiling, the lovely cups of appletea at night, the café with its tasteful Turkish coffee, the sweet warmth, the children playing soccer in the small streets, the small stores, the wonderful elderly people wih all the doors in front of their store, the metalworkers on the other side of Nigde, the mosques, the gallery in a former mosque, the amount of visitors at the opening of the Artquacke exhibition, the surroundings and of course Safa and Mustafa who showed us around for a couple of days. Nigde is absolutely a place I would like to revisit.
F. Tan: What do you think about Turkey? Did you come in before?
Ed Hanssen: I think Turkey is a great country with so, so many great cities and sites, magnificent views from the mountains, the lovely food and beverages and most of all the great and proud people of Turkey: very friendly. Not once did I feel not welcome or unsafe. It was a joy, wherever I was.
I visited Istanbul on my way to Iran. It was a short stay in Istanbul, but one to remember. Crossing the Bosporus, visiting the Blue Mosque, the silence in the morning, the stray dogs, the appletea on top of a restaurant, the busy streets at daytime. Vibrant Istanbul was a joy for eye, ear, nose and mouth. But also Nigde, Samsun, Andana and many other places I visited on another trip to Turkey are beautiful.
F. Tan: Where is the city you most want to see in Turkey?
Ed Hanssen: I have been to Istanbul once and when I visited Nigde I also visited Ankara, Ügrüp, Samsun, Adana, Sivas and many more town and cities. I guess I want to revisit them all, for they are all very beautiful. Just as the tiny villages, who were really great to visit. Places I would rather not visit are the more common ones that are being visited by many tourists, because I might be eating Dutch food and speak Dutch all the time hahahahaha. That is not what I am after when I visit Turkey, or any other country for that matter. I like to meet the authentic people of Turkey, the authentic cities, not (just) the touristic sites, although they are great too. I remember visiting some mosques, a fresh water spring, a summerhome in the mountains… All so great! Maybe next time I would travel more east and north, who knows.
F. Tan: Can you tell us about your location (your city, village or town) from the perspective of an artist?
Ed Hanssen: The small town where I was born and still live is called Nunhem. Nunhem is situated in the provence of Limburg, the most southern provence of the Netherlands. It is nearby cities like Roermond, Venlo and Weert. Nunhem is part of the township Leudal. "Leu" is the name of a river. "Dal" is a valley. Please do not think we have mountains and valleys, for we have not, except fort the very south of the provence where some steep hills are situated. Leudal is is also the name of a fairly small piece of nature where I like to walk and where, when I was a child, played around a lot, like children nowadays still do. Nunhem means "new home" and dates back to 1224. Nunhem is a peacefull quiet little village with +/- 1000 inhabitants. It has a church and some cafés, but no shops. It also has a multinational company in seeds. It is number five in the world as seed improvement company (peas, tomatoes, carrots and such).
I contributed to the book "De kunst van het exposeren" by dutch artist/writer Laurence Steenbergen.
If you want to order the book, please visit
THIS
website. 2018.
Lokale radio Tegelen, 2001;
Interview 2Impress magazine, nummer 3, juni 2011.
Radio-interview RTV Roermond, 2012.
KunstKamer met Pauline Little-Pennings de Vries
Radio-interview L1
Emil en de kunst, 6 april 2013
Interview en expositie "Kunst in de Keuken", Galerie Noyons, Buggenum, 2017.