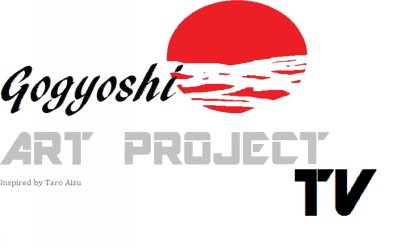 GAPTV
starts off interviewing the Dutch participants to the Gogyoshi Art Project. Later on the international participants will be interviewed be it in another format. This because of travellingcosts.
I hope all of you will participate and enjoy!!!
Hope to see all of you very soon in real life and or on
GAPTV
.
==========================================
GAPTV INTERVIEW #4 PART 1
GAPTV INTERVIEW #4 PART 2
GAPTV INTERVIEW #3 PART 1
GAPTV INTERVIEW #3 PART 2
GAPTV INTERVIEW #3 MARLIEKE OVERMEER COMPLETE
GAPTV INTERVIEW #2 PART 2
GAPTV INTERVIEW #2 PART 1
GAPTVE INTERVIEW #2 HELGA VAN DER POEL COMPLETE
GAPTV INTERVIEW #1 Part 2
GAPTV INTERVIEW #1 PART 1
GAPTV INTERVIEW #1 Part 1 THE PROMO
Interview by Carmen Heemels
Idea and video by Ed Hanssen(got to work on that last part :-) )
Here's the intro to
GAPTV
(by Ed Hanssen, with supportive additions by Adrian Russell-Davies and Fre van Welie)