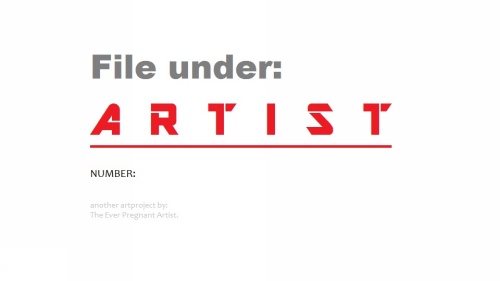 LOGO by Ed Hanssen(2012)
Selfportrait mugshots of artists.
A project running on Facebook under the name: File under: Artist.
Artists make a photographic selfportrait stating their number of participation from 000.001 up to.........
Further more they state their name, number, place, found and crime committed.
After uploading their photograph, they invite another artist to do the same.
This collection of artists shows them as THEY are without their artpieces, without their website-links and so forth: just the artist him/herself.
Artists who have been caught:
artist 000010
ARTIST 000011
ARTIST 000033
000010 Manolito van Zoest (not yet caught on photo)
000011 Jacques Yasemin (not yet caught on photo)
000020 Mirjam Stevens (not yet caught on photo)
000021 Jan Doek
000022 Agnes Frijlink
000023 Christian Zanotto
000024 Red Stamp Art
000025 Alann de Vuyst
000030 Miki
BY JOINING ONE OF THE PROJECTS ON THIS WEBSITE, YOU AGREE THAT THE PICTURES OF YOUR PARTICIPATING ARTWORKS WILL BE USED FOR PUBLICITYREASONS FOR THESE PROJECTS, BE IT DISPLAY'S, DIGITAL PUBLICITY, BOOKS, NEWSPAPERS OR OTHER FORMS OF PUBLICITY.